Custom-Pak is playing its part in pushing NZ towards a circular economy by offering sustainable packaging solutions using recycled and recyclable plastic. But challenges remain.
Crombie Lockwood client Custom-Pak manufactures packaging from 100 percent recycled food-grade plastic. The innovative business believes Kiwis have a responsibility to recycle and reuse.
Custom-Pak supplies custom-designed products to major horticultural growers and suppliers, including Foodstuffs, Seeka, Air New Zealand and Fisher & Paykel Healthcare. With manufacturing plants in Christchurch and Auckland the company's clients have a packaging supply chain that won't be interrupted by an earthquake, pandemic, or other disruptive event.
"Covid has certainly [highlighted] the fact that it's a lot easier to do business with businesses that manufacture in New Zealand. People are willing to pay a little bit more for the reliability of local quality and service," says Glenn Wilson, General Manager, Custom-Pak Christchurch.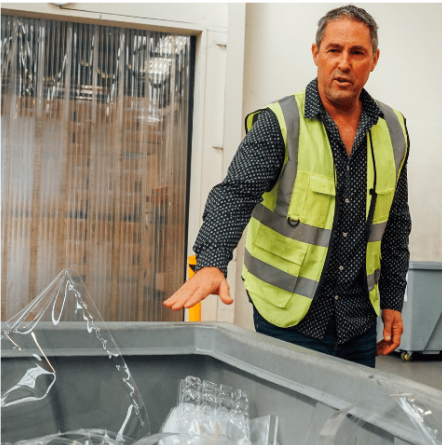 Custom-Pak believes Kiwis have a responsibility to recycle and reuse.
Seeking sustainable alternatives
Currently, Custom-Pak imports its recycled plastic in roll stock form from overseas, but they plan to be able to manufacture this onshore with specialised plant equipment within the next five years.
"We are signatories to the Ellen MacArthur Foundation, which underlines a commitment to recycling. We're monitoring and reducing our footprint as we go." Glenn believes that if industry can reduce the types of plastics, it will become easier for recyclers to sort through the material.
"Recycled PET (RPET) is what we make. It has FDA food-grade approval, and a lot of positive uses. It protects the product during travel, and it also presents the product so that end-users and consumers can see it. Their product range includes punnets for fruit, packaging for baked goods, and other tamper-proof packaging.
"Raspberries and strawberries have moisture content, so if you store them in other packaging products it tends to draw the moisture out and reduces the shelf life. Recycled PET has a low carbon emission footprint and is used to reduce the amount of food waste, which creates a high carbon footprint."
No quick fix for global waste
As Glenn sees it, there is no quick fix to the global waste issues at hand. Every material item, including cardboard, glass and tin, needs a 360-degree analysis: how it's made, recycled, and the infrastructure that supports its re-use.
"Materials that fit the bill will help us achieve a circular economy," he says. "Countries like Finland, Norway and Sweden – who have been doing this for years – are a long way in front of us. They're still using plastic; they just have better recycling facilities.
"Now that the New Zealand Government has increased the waste disposal levy, that fund should grow over the next 12 months and help businesses fund opportunities to recycle. This is going to make New Zealand a much better place. There's still lots of work to be done, but it's all moving in the right direction."
Custom-Pak, believes Kiwis have a responsibility to recycle and reuse, rather than 'wish-cycling' – when all manner of items are placed in the recycling bin and "we hope for the best".
Understanding the business
From a business insurance perspective, Glenn says Crombie Lockwood knows the ins-and-outs of Custom-Pak's activities, and where it's heading in the future.
"Crombie Lockwood has done a great job of understanding our business, looking at what we do, our facilities, the risks we face, who our customers are, what our transportation needs are, and the products themselves," Glenn says. "There's nothing that's missed, and it's given me a better understanding of things that we need to cover."