Here at Custom-Pak we value the importance of considering the environmental impact of our actions. We choose to use as much 100% RPET material in manufacturing as possible, much of which has already been recycled and repurposed. By doing this we have reduced our carbon footprint by almost 24% and have plans in place to improve this percentage even more.
99% of the waste generated during our plastics product manufacturing is recycled by the manufacturer or a contracted recycling company.
However, we're aware that businesses producing and/or selling packaging must also live up to the spirit of the recycling packaging movement and take responsibility beyond the design and use of their packaging. This includes contributing towards used plastic being collected and reused, recycled or composted. Through our adoption of a circular system, we minimise plastic waste in landfill and limit use of non-renewable energy sources. We also support regulations around ensuring plastic packaging can be recycled and the provision of education regarding the correct disposal of plastic waste.
China's ban on importing waste means NZ Government must rethink recycling plans
Ministry for the Environment figures show that New Zealand sent $21 million worth of waste to China in 2016. This was made up of $8.2m of plastic, $3.1m of slag, and $9.7m of paper. However, at the beginning of 2018, China stopped taking in most types of plastics due to high pollution levels and environmental concerns.
This ban by China resulted in the stockpiling of recycling waste at facilities across New Zealand as companies were forced to find other markets to sell waste to, at greatly reduced prices.
Associate Environment Minister Eugenie Sage has revealed the recommendations of a taskforce set up last year to respond to the Chinese Government's ban on the import of many recycling materials.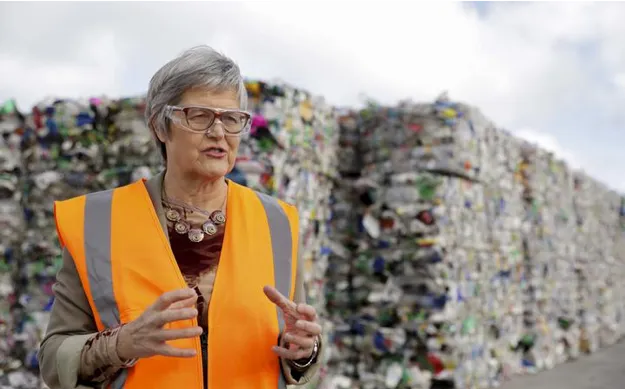 Associate Environment Minister Eugenie Sage said: "The taskforce looked at how our resource recovery system is functioning, how we can support more onshore processing of recyclables and help New Zealand shift to a circular economy approach where products are better designed so that more materials can be recovered and reused".
The state had been sending waste issues offshore and China's National Sword initiative had been a wake-up call that government needed to deal with waste here in New Zealand."
The Ministry for the Environment is adopting several of the taskforce's recommendations
These include:
Identifying the gaps in materials recovery and waste infrastructure, and where investment is needed.
Reviewing kerbside collection and processing systems to identify how to increase the quality of recyclables and ensuring more materials can be recovered and recycled instead of going to landfill.
Running an education campaign to help New Zealanders recycle correctly.
Undertaking feasibility studies around how to increase New Zealand's fibre (paper and cardboard) processing and plastic reprocessing capacity.
Examining how product stewardship for packaging can be used to ensure manufacturers consider what happens to packaging once a product is used by the consumer.
Assessing options for shifting away from low value and difficult to recycle plastics, such as single use plastic bags and other low volume and/or mixed materials. This includes regulations around ensuring plastic packaging can be recycled and/or to require a portion of recycled content in packaging.
Developing a sustainable procurement plan and guidelines to encourage purchase of products made of recovered and recycled materials.
Our undertaking
Custom-Pak is a member of Plastics New Zealand, an organisation which works to influence plastic manufacturing in New Zealand so that manufacturers behave in an environmentally responsible manner. We are committed to supporting key activities that can be adopted by all parts of the supply chain, and to galvanise wider action by Government and Business. We aim to eliminate unnecessary single-use packaging items through redesign and innovative solutions that evolve more and more into durable and reusable item models. We keep plastic in the economy and out of the natural environment.